01

Hanayome Noren Museum (Nanao City)

02

Noto Shokusai Market (Nanao City)

03

Mitsuke-jima Island (Suzu City)

04

Rokkozaki Lighthouse (Suzu City)

05

Suzu Shrine (Suzu City)
Shin-Takaoka Station
Train&Walk
Approx. 1 hour and 20 minutes to Nanao Station on the Waku-Liner→Approx. 10 minute walk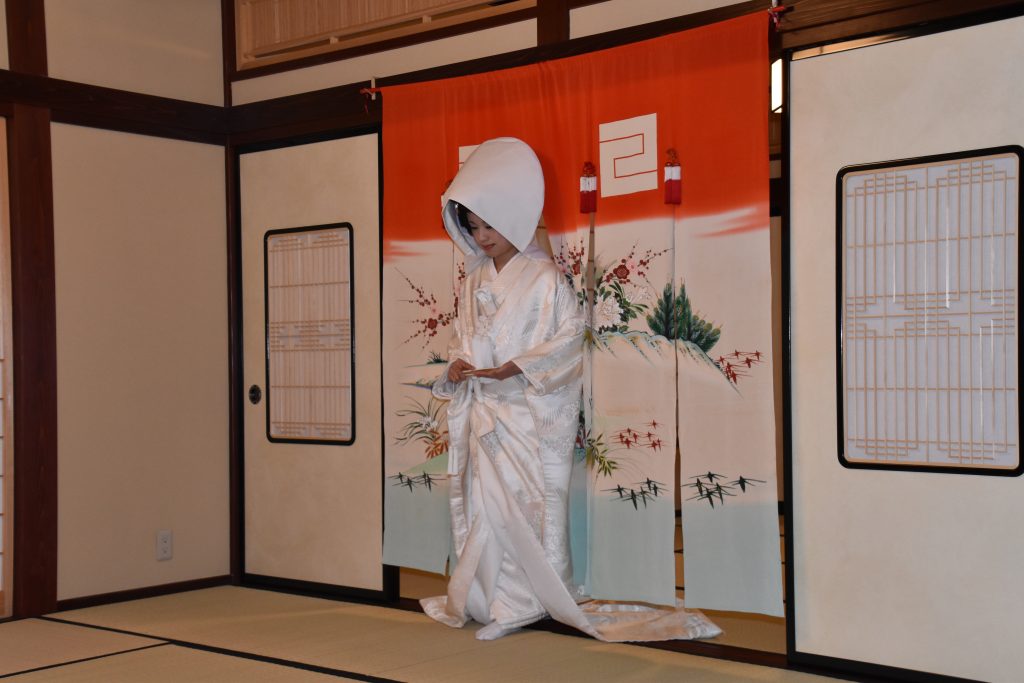 01
Hanayome Noren Museum (Nanao City)
60min
The hanayome noren or "bride curtain" is a custom started in the Meiji period on the Kaga Domain, in which brides wed by walking under the noren hung over the door of the altar room at the groom's home on the day of the wedding. The Hanayome Noren Museum, opened in April 2016, exhibits hanayome noren from the Meiji period on. Visitors can also do a kimono and experience the ceremony themselves.
49 Tsu-bu, Madashi-machi, Nanao City, Ishikawa Prefecture Tel.: 0767-53-8743 - Admission fee: 550 yen for high school students and older, 250 yen for elementary and middle school students, free for infants, 450 yen for groups of 20 or more - Ceremony fee: 3,000 yen per person (includes admission fee) - Opening hours: 9 a.m. to 5 p.m. (last entrance at 4:30 p.m.) - Closed for year-end and New Year's holidays (December 29 through January 3) Closed the 4th Tuesday of every month and when exhibits are being replaced
Walk
Approx. 5 minute walk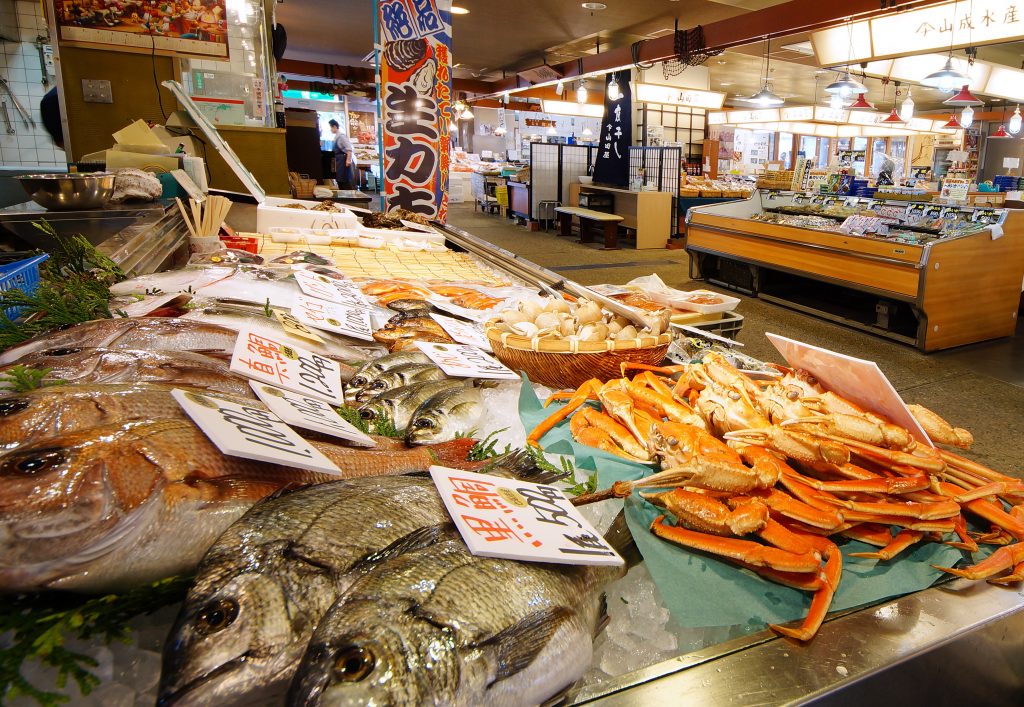 02
Noto Shokusai Market (Nanao City)
60min
Facing the "natural fishpond" of Nanao Bay, this is the largest roadside station on the Noto peninsula, chock full of such Noto specialties as fresh marine products fished that very morning, the popular hamayaki seafood cooked right on the beach, restaurants, etc.; a place for "looking, buying and eating".
13-1 Ingai, Fuchū-machi, Nanao City, Ishikawa Prefecture Tel.: 0767-52-7071 - Opening hours: 8:30 a.m. to 6 p.m. (hours for restaurants differ) - Closed Tuesdays (or the following day in case of holidays), open every day from July through November, all facilities closed January 1
Walk&Tran&Bus&Taxi
Approx. 5 minute walk to Nanao Station→Take the Noto Railway Nanao Line to Anamizu Station, approx. 40 minutes→Approx. 1 hour on the Suzu Express Bus to Ushima bus stop→Approx. 5 minutes by taxi
03
Mitsuke-jima Island (Suzu City)
30min
This 28-meter-tall rock island is said to have been discovered ("mitsuke") by the great Kobo-Daishi, a.k.a. Kūkai, when he travelled from Sado Island. Due to its shape, it is also called Gunkanjima or "Battleship Island". Famous as a symbol of Noto, the view of the rising sun from the Mitsuke-jima Island area is superb. The shore between Mitsuke-jima Island in Suzu City and Koiji Kaigan or "Love Coast" in Noto-machi, which is known for tales of tragic love, is called "Enmusubi-chi", a play on words meaning "Marriage Beach", and there is a "marriage bell" on Mitsuke shore. On clear days, the mountains of the far-off Northern Alps (Hida Mountain Range) are visible. The island is lit up at night.
Ukai, Horyū-machi, Suzu City, Ishikawa Prefecture Suzu City Tourism Department Tel.: 0768-82-7776 - Parking space for 200 vehicles
Taxi
Approx. 30 minutes by taxi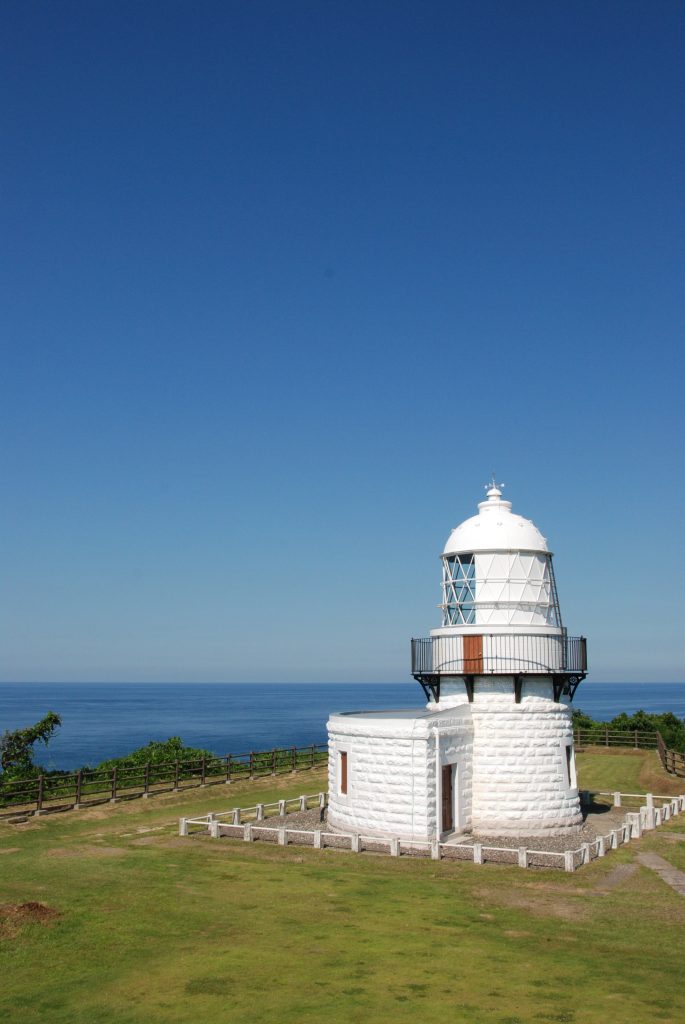 04
Rokkozaki Lighthouse (Suzu City)
30min
This lighthouse is located on the very tip of Noto Peninsula, at the point where the outer shore and inner shore meet. The site is famous for the fact that from it you can see the sun both rising from the ocean and setting in the ocean. The chalk white lighthouse was built based on the design of an English architect in 1883 . The lighthouse is unattended and the inside cannot normally be visited, but it is open to the general public several times per year.
Noroshi-machi, Suzu City, Ishikawa Prefecture Suzu City Tourism Exchange Department Tel.: 0768-82-7776 - Parking space for 100 vehicles
Taxi
Approx. 10 minutes by taxi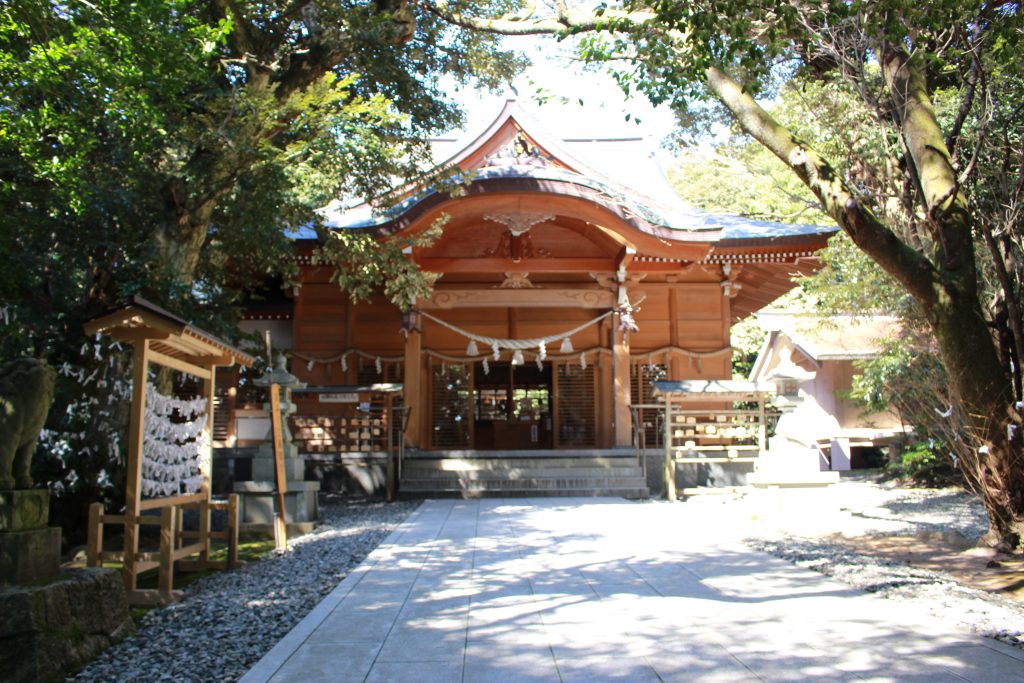 05
Suzu Shrine (Suzu City)
30min
Suzu shrine enshrines the tutelary god of the Japan Sea shore. This prestigious shrine was built in the time of Emperor Sujin, the tenth emperor of Japan. The shrine's sanctuary houses wooden statues of male gods that are nationally-designated Important Cultural Assets, as well as numerous ancient documents and articles related to Minamoto no Yoshitsune. One particularly treasured article is the "Semiore Flute", offered by Minamoto no Yoshitsune as a token of gratitude for surviving a shipwreck.
4-2 Jike, Misaki-machi, Suzu City, Ishikawa Prefecture Suzu Shrine Tel.: 0768-88-2772 - Free for visits. * Sanctuary visit (reservations required) 300 yen for general public, 250 yen for groups (of 30 or more), free for elementary and middle school students
Taxi&Bus&Train&Shinkansen
Approx. 20 minutes by taxi to Suzunari Rest Area→Approx. 3 hours by express bus→(*Change trains at Kanazawa Station)Approx. 15 minutes on the Hokuriku Shinkansen
Shin-Takaoka Station
日本、石川県七尾市府中町員外13−1 能登食祭市場
日本、石川県珠洲市三崎町寺家4 須須神社 (義経の蝉折れの笛と弁慶の守刀)
【Remarks】
It takes around 1 hour from Himi Ban-ya gai to Nanao Station on the Waku-Liner.
It takes around 40 minutes by taxi from Noto Satoyama Airport to Suzunari Rest Area.